Ashland Volunteer Fire Company is well-equipped to handle most any emergency situation in our community.
Currently, we have six apparatus to respond to the calls we receive:
Engine 1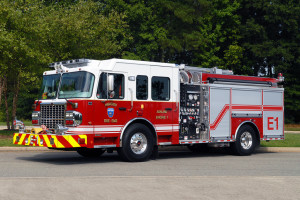 Engine 1 is a 2012 Spartan Gladiator-Class Pumper and our primary apparatus.  E1 is powered by a Cummins diesel engine and Allison transmission.  It seats six people and includes 750 gallons of water onboard and various intakes and discharges located around the engine.  Engine 1 is also equipped with a full compliment of EMS supplies and equipment, Hurst extrication tools, basic ventilation equipment, forcible entry tools and much more.

Truck 1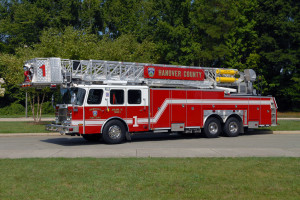 Truck 1 is a 2005 E-One Aerial Platform Truck.  Truck 1 seats up to six firefighters and carries advanced firefighting, ventilation, search-and-rescue, salvage and overhaul equipment.  It's 95′ tall ladder can be used for rescue, to flow water from it's mounted water gun or to discharge water through hose line from a discharge outlet located at the top of the platform.  Truck 1 is one of only three ladder trucks in Hanover County.

Squad 1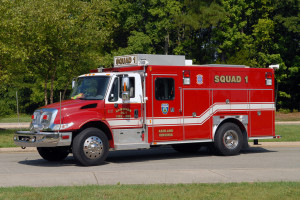 Squad 1 is a 2003 International 4400 DT 350 with an E-One body.  Squad 1 seats five people and contains tools for advanced vehicle extrication, vehicle stabilization, technical rescue and hazardous materials situations.  It is equipped with state-of-the-art Hurst hydraulic tools as well as equipment ranging from swift water rescue to interior firefighting.  Squad 1 is often dispatched to complex motor vehicle accidents, fires and various unique emergency situations and is a heavily relied-upon asset of AVFC.
Engine 1-2
Engine 1-2 is a 2002 E-One Cyclone II Pumper with a 1,250 GPM (Gallon-per-minute) pump.  A Detroit Diesel Series 60 engine with 430 horsepower and an Allison transmission powers Engine 1-2.  It contains 750 gallons of water and 40 gallons of foam on-board.  Seating up to 6 people, Engine 1-2 has all of the same tools and equipment carried on Engine 1.  Engine 1-2 is our reserve engine but is also marked-up in addition to Engine 1 during high call periods such as inclement weather situations.
FR 1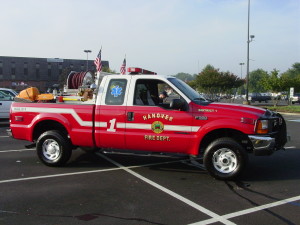 Fast Response 1 or FR 1 is a highly-customized 2004 Ford F-350.  FR 1 seats two people and is used for various incidents requiring quick action while not requiring a large compliment of firefighters such as brush fires and certain EMS situations.  It contains 75 gallons of water, 150′ of hose line, a chainsaw and a full compliment of EMS supplies and equipment.
Brush 1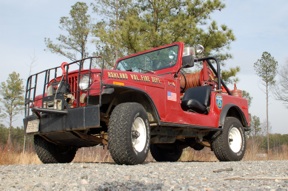 Brush 1 is a 1976 Jeep CJ-7 powered by a 350 V-8.  Used specifically to fight brushfires, Brush 1 carries two firefighters and is equipped with 60 gallons of water and a 40 GPM pump.  This is the oldest unit in our fleet but one of the most valuable in the right situation.